What a difference a year makes I tell ya. Basketball Wives Miami's
Evelyn Lozada
went from being engaged, married, and
divorced
to ex-NFL player
Chad "Ochocinco" Johnson
within a matter of months. She then had to deal with that sticky domestic violence situation which left her with a gash on her forehead and lead to Chad being
arrested
and losing numerous endorsement deals. Well, a little over a year later, Evelyn is now pregnant by Dodgers player
Carl Crawford
and to top it all off, he proposed to her this Christmas morning in Arizona! Awwww, heauxs be winning, right?!
Take a look at this massive rock!
The ring is 14.5 carats, can you imagine flossing with that condo on your finger? I'm convinced that Evelyn has some of that voodoo puss. I'm just not understanding what kind of man would actually take her seriously, knock her up, AND propose to her. Carl was with his first baby mama for a decade and never proposed to her. But after a brief smashing session he's down on one knee for Evelyn "Forever a Groupie" Lozada? Jesus wept!
This is Evelyn's third engagement and hopefully her last. Who knows, maybe she has actually found love this time around? Oh hell, who am I kidding? 32-year-old Carl is a multi-million dollar baseball player who is knee deep in a
child custody battle
with his first baby mama. And let's not forget that fact that his youngest child is only 5-months old. I'm trying to hold in my laughter but you know Evelyn is all about this messy azz lifestyle so I wish both of these dimwits a lifetime of happiness.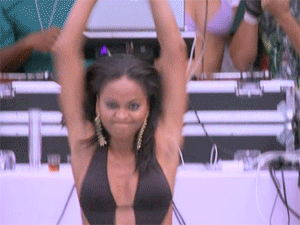 Here's another picture of the ring: