Photo Courtesy of Instagram
Last week, Basketball Wives L.A. introduced a new cast member by the name of Bambi. I knew that this strong gummed chick looked familiar but my brain was overloaded with stories about people who are actually relevant. Well, after a little bit of digging on these internet streets, I found a little more information on this "rapper" from Compton.
As we all know, groupies, ballers and rappers are like the circle of life. Everyone has ridden the same rides at some point so I was not shocked to find out that Bambi was dating the self-proclaimed King of the Souf, Lil' Scrappy, in May 2011. Erica and Buckee, come get your man!
A picture of Bambi giving Scrappy her bedroom eyes. Imagine if these two were to procreate? The teef on that child would be extraordinary.
More after the jump
Rumor has it that Scrappy was helping Bambi with her rap career *giggles* and she even got into a heated exchange with Scrappy's ex-boo rapper Diamond at some point. I tell ya, Scrappy's package must be made of gold. He's always caught in some love triangle hood ratchetness.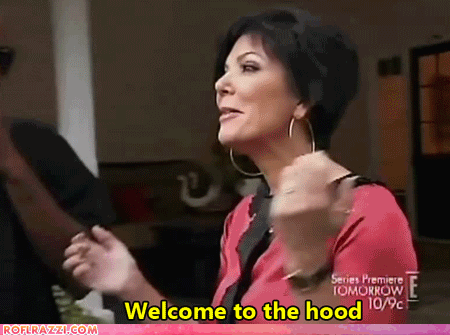 Now, back to Bambi's irrelevant rapping career. Bambi and Malaysia are friends from Compton but I'm guessing they're not that close if May May won't hook her up with the name of her dentist. But anywaytho, Malaysia and Bambi are a part of Compton's Lipstick Gang *sigh*. But if you think this is some pretty girl clique rocking red bottoms and 24' silky Brazilian weave, think again! These girls go hard in the streets apparently. Pink bandanas, crips, and that sticky icky icky... sounds like my kind of party *sarcasm* Check out a couple of Bambi's music videos. Let's just say, Brooke probably don't want it with Bambi n' nem!
Bambi - "Pink Bandana"
"Lipstick Gang Pool Party". Soooo...you "getting paper" but you live in an apartment complex with a shared pool? Oh, okay.
Lakeisha Malaysia makes a cameo in this video. Bambi is bringing the class in this one. Gotta love it.
I'm sill trying to figure out which NBA player Bambi was dating that justified her even being on the show. Once I find out y'all will be the first to know!
8/26
*UPDATE*
I guess Bambi is leaving the ballers alone for now since she is currently booed up with Love & Hip Hop Atlanta's Lil Scrappy. More pics and details
here.
What do you think of Bambi's gums music? Will you be waving your pink bandana to her music?