Finally that country bumpkin Kandi Burruss got some sense!
After three years of (not so silently) fuming over being stiffed by ex-bff Kim Zolciak over the 'Tardy for the Party' song royalties, Kandi is finally sticking it to Kim and taking the Notorious W.I.G. to court! Oh, and I forgot to add, she will be represented by Phaedra Parks!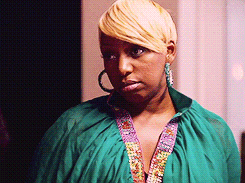 The beginning of the end of their friendship was sparked by Kim making six figures off of iTunes from from the song. Kandi only received a measly $4,000. Kandi also signed over rights to the song to Bravo TV. Pshhh, what a dummy!
I wonder if Bravo cameras will be in the courtroom when this showdown takes place?