It sure looks like something is going on to me!
Now y'all know I have boycotted that garbage can of a show Love & Hip Hop New York after
Massengil
Mandeecees Harris
was busted on
child sex and drug charges
, but I still keep up with the news and gossip!
Apparently there was a scene during Love & Hip Hop where
Joe Budden's
girlfriend
Kaylin Garica
was boohoo crying with her mouf wide open and talking about how much she loved him and viewers were shocked by her f'd up grill. If you have followed Joe on Instagram and Twitter since the beginning of time, then you know that he cares too much about what other people think of his girlfriends. If a girl is the "baaddest" "thickest" "sexiest" he will wife her in a second just to make other dudes jealous. So, when the world discovered Kaylin had shark teef, Joe stopped posting his usual candid pictures of her on his social media sites. Sources are reporting that he dropped her like a mixtape and has already moved on to someone else. Well, that "someone else" seems to be Love & Hip Hop Atlanta's
Ariane
!
Pictures of the twosome holding hands after the jump!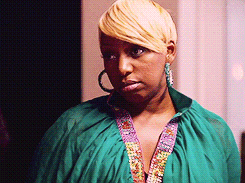 1. What da hayle does Joe have on?
2. Will Joey be making an appearance on Love & Hip Hop Atlanta?
What do you think about Joe Budden possibly dating Ariane?
Photo Source: ATLpics.Net