If you thought Real Housewives of Atlanta's Cynthia Bailey and her husband Peter Thomas were broke, think again!
Cynthia's daughter
Noelle
is apparently not receiving the academic and social needs that she desires from the Atlanta public school system so the 12-year-old stunner is taking matters into her own hands! Noelle Instagrammed a picture of her application to
Woodward Academy
in Atlanta and tuition is a hefty $22,950 a year! What the hell are these kids getting for that amount of money? I took a look at the school's website and the only appealing thing was the fact that they offer free lunch to the students everyday. Free food is the ish!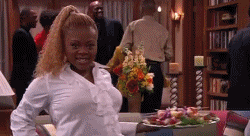 I hope Cynthia plans on working overtime at the Bailey Agency to pay for that tuition!