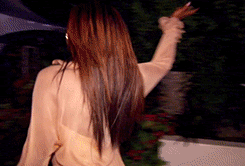 *Play the Twilight Zone theme music while you read this recap so you can get a good feel of just how crazy this episode was*
Kenya Moore
is at the gym doing some kickboxing and squats to plump up her fake buns . Her trainer agrees that she would be perfect for a booty workout video because who wouldn't want to look like Kenya? *raises hand*
Phaedra Parks
and
Apollo Nida
are having a photo shoot for their donkey booty work out video. Porsha comes waltzing out in a one-piece diarrhea green leotard and matching green eye shadow. This lady has the absolute worse fashion sense! She and Apollo start posing in these awkward poses that are highlighting Phaedra's butt. I mean, her butt is okay but what are they planning on doing about the gut that she's working with? How you gonna have a toned butt with a box of Krispy Kreme donuts for a stomach? How you gonna sell a workout DVD when you're shaped like a Tropical Punch CapriSun? So many questions, so little answers!
Cynthia Bailey
decides that she wants to throw a beauty pageant so she can bring in more money to the Bailey Agency. She meets with a pageant planner and he starts running through all of the prices she can charge the contestants and Cynthia's face lights up because she's about to make bank!
Porsha Stewart
meets up with
Kenya Moore
at a restaurant and Kenya immediately asks the waiter to remove all of the knives from their table lol. That Kenya is straight up cuucuu! Kenya wants to talk to Porsha about the issues she is having with Phaedra. Kenya clearly forgot that she and Porsha are not homies. They immediately start bickering back and forth (as expected) and Porsha is like "why can't we have a womanly conversation?" Kenya says she can't have a woman discussion with her because she is a little girl! They end up leaving the restaurant and on the way out, Porsha talks about Kenya and her ashy feet. Well, I guess Porsha just proved Kenya's point. She is an immature little girl!
Cynthia, the pageant planner and Porsha meet up to discuss the upcoming event. Porsha's family's non-profit will be sponsoring the pageant and she is excited to be a part of the festivities because she thinks she would make a great pageant queen *rolls eyes*. Cynthia wants to book this big hall for her the event but she doesn't have any contestants lined up. She really wants to get the pageant planned and ready within three weeks and I have no idea why she HAS to have the pageant so soon. Is her mortgage due or something?
Kandi Burruss
(I forgot she was even on the show) meets Porsha, Porsha's friend, Phaedra and Cynthia at a Middle Eastern restaurant. Phaedra starts talking about her workout video and her issues with Kenya. Phaedra says she knows so many famous people who can make her donkey booty video happen. Phaedra claims to know the Vice President of the United States and Tyler Perry. Um, quit lying Phaedra boo!
I love Nene so much for that. She keeps the messiness turnt up 24/7!
Back to the dinner, Porsha talks about her lunch she had with Kenya. Kandi doesn't get why Porsha keeps going to lunch with someone that doesn't like her. Umm, maybe because Porsha's only story line is her beef with Kenya Moore? Cynthia tells everyone that Porsha will be singing at the pageant and Porsha says when she sings, she sounds like Beyonce and Rihanna and Neil Diamond, and Chaka Khan and Sheila E and Gloria Estefan all wrapped into one. Girl, bye! She's sipping water, trying to warm up her vocal cords to give the girls a preview of her singing voice when all of a sudden, a belly dancer comes out and saves us all from the impending ratchetness. I already don't like Porsha and the fact that she even compared herself to King Bey is disturbing. She and Kenya have more in common than I thought...
Kenya is on the driving range with Cynthia and Cynthia asks her why she didn't show up to their dinner the night before. Cynthia starts telling on Phaedra and relaying the entire conversation they had at dinner. Messy, messy, Cynthia! Cynthia tells Kenya that Phaedra thinks she's a drunk and that she has a chemical balance. I guess it is safe to say that Cynthia is #TeamKenya.
Nene is at her Shoe Dazzle shoe launch and all of her cast mates show up. Although her shoe is absolutely fugly, I think it is great that she is donating all of the proceeds to a domestic violence charity. That is so sweet of her and confirms that she is a true rich biatch! Everything is all love and light until Kenya walks in wearing a replica fishnet cover-up that matches the one Phaedra was wearing in Anguilla and to top it all off, she is imitating Phaedra's voice and she has butt pads pasted on her buns. Kenya is being loud and messy saying she needs more vodka because she is an alcoholic. This is a charity event lady! Put your buns away!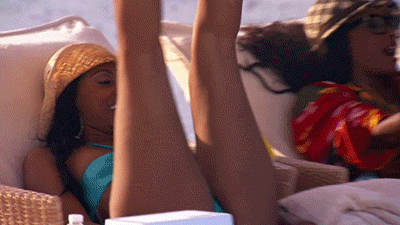 Kenya finally confronts Phaedra and tells her it wasn't right for her to be talking behind her back. Phaedra is looking at her with a clueless face and asking, "Who have I been talking to about you Kenya?" Phaedra is such a horrible liar! Kenya is not backing down though. She goes for the jugular and tells Phaedra that she shouldn't be doing a workout video because her body is not up to par. Oh damn, shots fired! Something tells me that the Kenya vs. Porsha beef isn't over yet!
What do you think about Phaedra talking mess about Kenya, and were you feeling Kenya's fishnet outfit and butt pads?