Photo Courtesy of Kim Zolciak's
Twitter
Bravo lied...I thought I saw somewhere that the December 2nd episode of Real Housewives of Atlanta would be Kim Zolciak's last show. But by looking at the previews for next week's show, Kim and her short bus husband Kroy Biermann get into a shoving match with the cameramen on next week's episode. Grrr! I was really hoping not to be tortured with another scene featuring this chick but I guess Bravo needs to drag out her exit for as long as possible.
Anywaytho, last night, the entire cast met up at brunch to discuss their trip to Anguilla for Cynthia Bailey and Peter Thomas' vow renewal. Everyone had decided to schedule the trip for a time when Kim would be able to go and as usual, she came up with a million excuses as to why she would be unable to go on the trip. Her cervix was too banged out, she was 57 weeks pregnant, she didn't have enough luggage for her wigs and blah blah blah. And then the Notorious W.I.G. has the nerve to tell everyone that she already has a trip planned with her husband...during the same week they are supposed to go to Anguilla!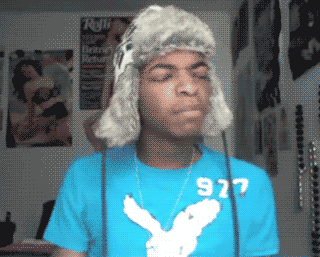 More after the jump
This is the thing about Kim, the broad lies and twists her stories so damn much. She thinks that she's so far above all of the other Housewives and their functions just because she found an NFL simp to pump his retarded sperm into her roast beef vag. Kim is still a gold digging pathological liar! If you're own
Daddy says you a lie
then bish, you a lie!
Kim had no intentions on going to Anguilla so she should have told the rest of the ladies straight up that she didn't want to travel with them! And to make matters worse, it looks like Kim didn't even plan on staying at their brunch because window licker Kroy was waiting for her outside in the car like a little punk!
I'm glad to see this homewrecker gone from the show and I will not be watching her dry spinoff show either!
What did you think about Kim's lies, fairytales, and fallacies during the brunch?