Photo Courtesy of BravoTV
I wanted to find a cute picture of
Joanna Krupa
to include with this post and so I went to her Twitter page and noticed that this kookoorookoo had blocked me from Twitter wtf? I swear I didn't say anything bad to her except that she needed to go to rehab and she's a crazy drunk. That's not too bad, right? Right?!!
Anywaydoe, this episode of The Real Housewives of Miami was a lot calmer than last week's episode. The ladies (minus
Ana
and
Marysol
) were getting ready for
Lea Black's
yearly 'Black's Gala'. Am I the only one who didn't know Lea was as prominent as she is? Go 'head Lea, I see you boo! Everyone from Queen Latifah to Mario Lopez was up in that 'b'!
More after the jump
The main topic of the episode was
Adriana De Moura's
pimp slap/punch to Joanna's face and to add a little more fuel to the fire, Adriana sat at sleazebag
Joe Francis'
table at the Black's Gala! (In case you forgot, Joe claimed to have had relations with Joanna and her sister
Marta at Lisa's
charity party.) Joanna, who was watching them from a separate table, was talking mad shizz (as usual) and boohoo'ing about how her fiance Romaine did not want to attend the gala with her. Romaine had completely cut Joanna off after she showed her azz at Lisa Hochstein's charity party. Good for him! Well during the gala, Joanna thought it would be a great idea to start blowing up Romaine's phone and when he didn't respond (smart guy) Joanna did what she does on every.single.episode.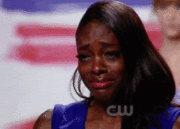 Crazy broad turned on them waterworks yet again. Seriously though, can she get through one episode without showing how emotionally unstable she really is? This is getting annoying.
The ladies also met with a kooky psychic and
Mama Elsa
was not impressed with his "E-I-E-I-O" pendulum swangin' toupe wearin' conjure.
This episode was pretty much a snoozefest but I'm hoping things turn around next week.
What did you think of this week's Real Housewives of Miami episode?