It looks like TLC has jumped on the ratchet t.v. bandwagon because the station has just went into production for a new reality show entitled, "Starter Wives". Yasssss! The tomfoolery will be all the way turnt up!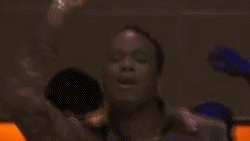 The
Huffington Post
reports that the new reality show will be "fascinating" and "controversial" as the cameras follow the lives of some of the entertainment industry's most
ghetto
notable ex-wives and ex-girlfriends.
Here is the cast:
Shaniqua Tompkins
- 50 Cent's ex-girlfriend and mother of his son.
Shaniqua is known for trying to go after 50% of 50's lifetime earnings after their relationship went sour. Funny thing is, they were never even married (or engaged from what I know). Why she thought she was entitled to his earnings is beyond me but hey, a bird can dream right?! These two have been fighting like rats for forever it seems like and after Shaniqua refused to leave the house that 50 was paying for, the mansion mysteriously went up in flames (an associates of 50's was later arrested in connection to the fire). Shaniqua later got an order of protection against 50 so I wonder if he will put a gag order on her to prevent her from spilling the tea on their relationship during the series.
More after the jump
Tashera
Simmons
- Ex-wife of DMX and mother of four of his children.
I guess being on VH1's "Couples Therapy" was not enough for Tashera because the mother of four is still thirsty for some reality t.v. fame. We'll just call Tashera X's ex-wife even though I don't think she has even filed for divorce yet smh. I'm sure Tashera will have beaucoup tales of DMX and his wandering doodledoo since the rapper has at least six additional kids outside of his marriage and is currently engaged to a little tenderoni (how you gonna be engaged but still married, X? That ain't right).
Khloe Kardashian Liza Morales - Ex-girlfriend of Lamar Odom and mother of his three children.
Liza got egg on her face when her boyfriend, NBA basketball player Lamar Odom, left her and their children and married reality slore Khloe Kardashian within one month of meeting her. Liza resides in New York and shares custody of their children with Lamar. I'm sure Liza will have a lot to say about how Lam-Lam did her dirty and about her children's new step-mother. This gon' be good!
Monica Joseph-Taylor - Soon to be ex-wife of DJ Funkmaster Flex and the mother of his two children.
Ever wondered what it's like to be married to a woman-hating simp? Well, Monica will be sure to fill us all in on the 19 years she spent with New York DJ Funkmaster Flex. Monica and Flex had a rocky relationship towards the end of their marriage when Flex was arrested for domestic assault back in February 2011. I wonder why it's taking so long for their divorce to be finalized. Is Monica having a change of heart?
Josie Harris - Ex-girlfriend of boxer Floyd Mayweather and mother of his three children.
Why do women keep popping out multiple babies by these men that aren't trying to wife them?
Josie is the ex-girlfriend of Floyd Mayweather and their relationship has been a roller coaster ride to say the least. Floyd was recently arrested for putting his hands on Josie and she has admitted that they have tried running each other over with cars in the past. Floyd is currently engaged to Shantel Jackson but word on the streets is, Floyd doesn't allow any of his baby mama's to get into relationships with other men. Gotta love them short men!
Cheryl
Caruso
- Ex-wife of mob boss Philip Caruso, mother of his two children.
This isn't Cheryl's first rodeo as she was previously filmed for a documentary entitled "I Married a Mobster". I guess Cheryl still has a story to tell or she thinks that somebody cares enough to see her face on t.v. again. Unless she's gonna bring some drama I'm not even interested in her. Next!
Zakia
Baum
- (no photo available).
Zakia is the ex-girlfriend and baby mama of rapper Maino (one of his popular songs is "Hi Hater"). I know nothing of her or Maino so we will just have to watch and see what she is serving when the show premiers.
A premier date for the new series has not been announced but do you plan on watching when this train wreck hits your television screen?