Photo Courtesy of Bravotv.com
Last night's Real Housewives of New Jersey reunion special was brutal. I was ready with my wine and popcorn to watch an entertaining hour of t.v. but instead, I was sick to my stomach and could barely finish my glass of wine. Okay, I'm lying, I drank the whole bottle but only because I needed to numb myself from the pain that was on display, on display, on display on my television screen.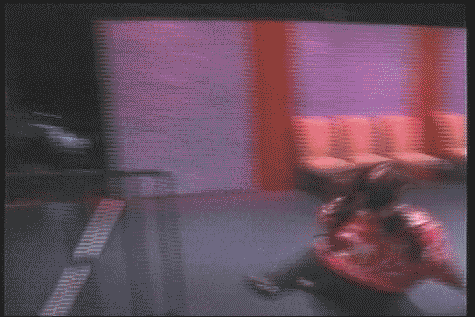 More after the jump
Let me just begin with
Jacqueline "Jack Daniels" Laurita
since she was the first to open her inflated lips during the reunion show. *Sigh* Jac needs some serious help and being on national t.v. is only going to make things worse for her. Aside from potentially having a drinking problem, she seems to have some major emotional issues. One moment she's happy, the next second she's screaming, three seconds later she is hysterically crying. And then she wonders why her daughter
Ashlee
has so many issues, hmmm...maybe it's because she grew up with a mother who's a complete wackjob. My favorite Jackie Daniels line from the reunion? "I swear on my son who is AUTISTIC!" LOL! Who in their right mind would even say that? Maybe she was trying to differentiate between her son who isn't autistic and her son who is autistic but either way, Jac is bringing "bipolar, schizophrenic, syphilis induced brain rot" to the reunion. I wish she would just shut the fawk up already.
Caroline "Tummy Tuck Fail" Manzo - Blubber, blubber and blubber. So you mean to tell me that Caroline is just a bitch for no reason and she isn't even going through menopause yet? Damn, I feel sorry for her husband and kids! Caroline is so invested in the Gorga-Giudice family feud it's really pathetic. Caroline has issues with the majority of her siblings and yet, she thinks that she is an expert on mending family relationships. GTFOH Cowoline!
Melissa "Please Stop Singing" Gorga - Since Melissa admitted to setting up Google alerts for herself, I'm sure she will be reading this.
There are a million Melissa's out there in the world. They find a sucka (Joe Gorga) gas his head up with lies, fairy tales and fallacies, wiggle their way into their husband's life, pop out a couple of kids to use as pawns, and proceed to wreck havoc and drive a wedge between their husband and his family. Welp Melissa, you New Jersey skrippa, your wish has been granted. You came on to the Jersey series just to "expose" Teresa and to ruin her relationship with her only brother. Thanks to you and your manipulative ways, a brother and sister relationship is broken. Melissa's stank ass sat there through the entire reunion and whispered insults under her breath. And on top of all of that, she also allowed Kathy to bash her in-laws without even blinking an eye. Words can't explain how disgusted I am by Melissa (and Kathy, but I'll get into that in a second). I hope Joe Gorga can grow some brain cells one day and realize what a mess Melissa has made of his life.
Kathy Wakile - Fake nose, fake lips and still uglier than a mug (on the inside and the outside). Kathy really played herself on part 1. I know she's feeling the heat because it seems like her irrelevancy will cause Bravo to give her the boot next season (hopefully) but did she really have to go there about Teresa's parents? Her own Aunt and Uncle? Where the hell do they do that at? I would have to be going through a psychotic episode to be speaking badly about one of my elders on a national television show. And when that show finally aired, I would not be living to type another blog post. It would be a wrap for me, stick a fork in it, curtains closed, that's all she wrote, wheels up, fade to black. Maybe Italians get down differently, who knows. What I do know is, Kathy was wrong as hell for calling Teresa's mother a "liar" and her dad a "coward". And when Tre made the comment about her father being a father figure to Kathy, all hell broke loose! So Kathy can sit there and talk shit about Tre's parents but when the tables turn on her, she wants to start hollering and going apeshit? Kathy needs to have a seat somewhere and realize that she's a non mf'ing factor. No amount of insults or jabs against Teresa will make her more popular on the show. The truest words Kathy spoke at the reunion were, "it's the Teresa show, the Teresa show!" You damn right, bitch! And don't you forget it!
Teresa "Napalm" Giudice - Tre is a funny little lady. I am Team Tre for life but this broad lies more than Eddie Murphy when he was pulled over with a tranny in his car. Tre knows good and well she doesn't write her own Bravo blogs. Those essays are so eloquent and well-written and Tre just doesn't get down like that. She's from Paterson babyyy and talking and writing are not her strong points. And then she's gonna lie about wearing a weave too? Tre, just stop. It's gonna be okay mama just own up to something for once. Anywaytho, I think Teresa did well on the reunion considering she was being attacked from four different angles. Can Tre get an ally next season? I can't take another season of this bullying. These chicks swear that Teresa is the cause of all of the problems in their lives. I'm over it. Enough is enough!
Part 2 of the reunion continues with Kathy's burly sister Rosie coming out (onto the stage, not out of the closet again) to try to intimidate her own cousin. The husbands also join the stage and Jac spills the tea on Juicy Joe banging a chick on his desk. Soooo, when your friendship is over it's okay to tell secrets that were once told to you in confidence? I tell you, these Jersey middle-aged women are of another breed. I'm going to blame it on the cameras, the paychecks, and the Fabellini's because I just can't see myself behaving this way with family and ex-friends on national t.v.
What did you think of part 1 of the reunion? Will you be tuning in to part 2?