We are finally moving towards the light and inching closer to this train wreck finally being over! The Real Housewives of New Jersey continued on with the yelling and personal attacks on the second part of the reunion special. Honestly, Andy Cohen could have kept part two and just skipped right on over to part three. But I know he has to milk this pregnant cow for as long as possible. Anyway, I digress...
I don't remember too much about the episode because I was too busy playing a game of Spades on my cell phone. But I did peek up from behind my Droid to see Rosie sit down with the cast to talk about her love life and her relationship with Kathy. But why? They couldn't ask Kathy to just give us the update on Rosie instead? I swear Andy be on that mess sometimes. Note to Bravo: not a single care is given about Kathy nor her family! Moving on...
Juicy Joe Giudice came out looking like a bag of money. He and Queen Teresa Giudice really do make a nice looking couple. Too bad Juicy treats her like filth and Tre is so in love with her man it's not even funny. You can't tell her nothin'!
I know that Jaquelin Laurita is a wackadoodle but I believe her story about Juicy cheating on Tre. Jac was way too comfortable with spilling the tea and did not hesitate for one bit. After being friends with Tre for ten years, I'm sure they've confided in each other many times about their husbands and their wandering packages, I just don't think that information needs to be shared with the world.
When Andy asked Juicy if he had ever cheated on Teresa, I wanted to jump through the screen and uppercut Andy in the chin. If Juicy has cheated, why is he obligated to tell that information to the world? That is between him and his wife. And you know Tre and Juicy lie about everything so did Andy really believe he would confirm what we already know? Yeah right! No tea for you, Andy!
I was shocked when Melissa Gorga put her hands on Tre and Tre just sat there like a punk. What happened to "I'm from Paterson, babyyyy" and flipping tables? I was disappointed. Tre had the opportunity to knock Melissa out, but she threatened to press charges instead? *sigh*.
Next week, on the final part of this annoying mess, all of the husbands come out for unknown reasons. Oh wait, not all of the husbands, it seems that Albert Manzo was far too busy to attend the reunion with his wife. Is anyone surprised by that? Funny how Caroline Manzo was super quiet when Jac and Teresa were tossing around the cheating allegations. Nice tactic, Caroline. If you're super quiet, maybe no one will mention your husband cheating on you with a woman by the name of "Jill"...
I've said it once and I'll say it again, I am overcooked and burnt out over The New Jersey Housewives. This show has turned into something I could never even imagine. If you have some extra time in your life, go back and re-watch season one of this series. Everything was so love and light and happy. Of course, there was Danielle Staub drama, but the drama wasn't to the point where the ladies were digging down deep into their arsenal to blow each other to smithereens.
Everyone disliked Danielle, but she couldn't care less. Danielle didn't even care about her past. She tossed that book down on that restaurant table like a G and dared any of those women to step to her. She continued to bring the L-O-L's with her delusions of grandeur and tough guy bodyguards. Bravo, can we please make a sacrifice (my vote is for Kathy and Caroline) and bring Danielle back instead? At least she owned up to her mess and wasn't trying to be something that she wasn't.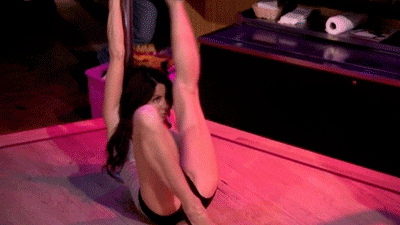 What did you think about part two of the reunion? Do you think Bravo should bring Danielle back on the cast?