Photo Courtesy of Bravotv.com
Is that supposed to be Adriana or Priscilla Pressley in the middle? That photoshop editor did her face so wrong!
Have I mentioned that if you aren't watching the Real Housewives of Miami you are
missing out
? These ladies are bring that caliente messiness for my soul! Tonight's episode did not disappoint. We had everything from nip slips galore, to queens fighting, to broomsticks being used as weapons...and in that order! This series is definitely making a name for itself and putting the Miami series on the map!
But anyway, let's get down to the good stuff. There were so many different beefs going on in this episode so I'm going to try to break them all down.
Joanna Krupa's
sister
Marta
admits to getting her horizontal salsa on with Girls Gone Wild sleazybucket
Joe Francis
(and she just happened to be underage at the time of the incident. No comment on that one.) Joanna and Marta sit down to discuss Marta's loose coot and then Joanna goes off on a tangent and starts going in on Marysol Patton's fur shawl thingy she had on. My motto for 2012 is "live and let live" and that's exactly what Joanna needed to do in that situation. Although she is an advocate for PETA, she cannot tell someone else what to wear and she should not ruin her night over it either. But hey, the Krupa sister's are sloppy drunks that are full of drama so I wouldn't expect for them to attempt to keep it classy at this party!
More after the jump
Lea Black's
friend
James a.k.a. Elaine
the drag queen gets into it with the smallest man ever,
Beau
, and Elaine shoves the poor guy into the pool. I prayed that Beau knew how to swim but apparently he was pushed into the shallow end so that made me feel better. He jumps out of the pool and a weird queen shoving match ensued. Just imagine two kittens pawing at each other and that's exactly what that "fight" looked like.
Lisa Hochstein
, the owner of the house where the party was held, bless her heart she tried so hard to calm everyone down and let them know that they were there for charity and if they couldn't behave they needed to get the f out of her house! No more than .45 seconds after warning her guest to be on their best behaviors,
Adriana De Moura
pulls
Karent Sierra
to the side of the kitchen to confront her about an interview she gave to a blog in which she was talking mess about all of the other housewives. Adriana and Karent are speaking civilly until Drunky McDrunkersten (that's Joanna if you didn't know) butts in. Joanna, who had one too many wines, champagnes, tequila shots, jager bombs, and washington apples, starts going in on Adriana about I don't even know what! Adriana gets fed up and walks away but Joanna is right behind her yelling something about, "I have been in this industry for 12 years, quack quack, peep, peep!" when Adriana turns around and straight up punches that lush right in her face! The sound of that punch could have awaken the dead and Adriana quickly became my favorite Miami housewife after that scene! Joanna talks too friggin much and someone needed to shut that trap with the quickness!
Joanna was completely in the wrong and I'm watching her on Watch What Happens Live right now trying to play the victim and justify her actions. Have multiple seats, Joanna! And just like I tweeted you on Twitter, you and your sister need to check into rehab a.s.a.p.! Being drunk, ruining your Maybeline mascara with your tears, and rambling on about your cheating fiance in every episode is not a good look, honey!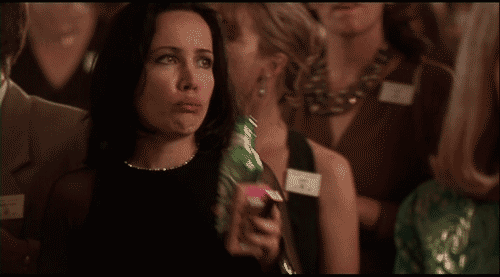 What did you think of this episode of Real Housewives of Miami? Are you Team Joanna or Team Adriana?