Photo courtesy of Kimbella's
Twitter
Kimbella "Still Look Pretty" Vanderhee wants everyone to know that she's still as thirsty as ever.
The twenty-eight year old mother of three took to her Twitter to let all of her followers know that after giving birth to her daughter two weeks ago, she "still got it". Whatever "it" may be. Kimbella is also giving exercise advice and she is already working out to get her body back into tip top shape.
There are so many things wrong with this picture. Where do I even begin?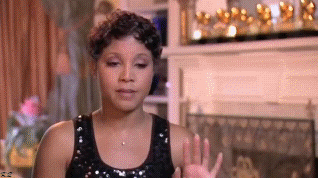 More after the jump
1. Kimbella, what in the gaussian blur are you trying to prove with this picture? If you really want us to believe you got that "snap back" so soon after giving birth then turn on the light in your bathroom and have your 'pud Yandy take a decent photo of you for goodness sake.
2. What doctor told you it was okay to start working out after giving birth two weeks ago? Have a multitude of seats and let your body heal. The clubs aint going nowhere!
3. You see that little lump of flesh standing next to you? That's your son and even he doesn't want to be a part of this foolishness. Poor baby is so embarrassed he doesn't even want to show his face to the camera. He is disgusted with your antics. Stop it.
4. Don't you got a diaper to change or a titty to pump or something? Where is the new baby while you're still trying to stay relevant on Twitter? Log.off.boo.
What do you think of Kimbella's desperation post-baby body?